Wednesday Dec 10, 2008
New to collecting automatic wrist watches? Here are five great watches to kick off you collection with.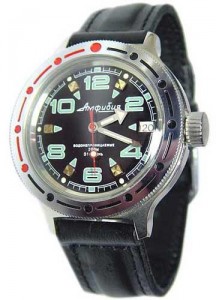 5) Vostok Amphibia: Get behind the iron curtain with this hefty chunk of Russian steel. These great collectible watches can be had for as little as $50. Vostok (means East in Russian) is a Russian watch company founded in 1942 to supply defense parts to the government. They started producing automatic wrist watches in the 1950's and In the 1960's the VOSTOK brand name was created and used to market mechanical wrist watches. The Vostok Amphiba was first released in 1968. It is a diving watch designed to resist 2000 meters of water, but I'm not sure I'd test it.
The Amphibia is a thick and inelegant watch, but it exudes a ruggedness that you won't find in it's more delicate counterparts. This is a man's watch, meant to be worn on a thick wrist that has just slapped the vodka bottle back on the table.
4) Seiko Samurai:Another cool Seiko (they are all pretty cool) not so dissimilar in features to the Seiko Monster that I reviewed below, but certainly distinct in it's styling. This watch is a large, heavy, diver available in stainless or titanium. These retail for about $250, but have become harder to get since collectors like this one. Like all Seiko's the fit and finish of this watch is superb, rivaling watches that cost three times as much. It has a fine Rolex-style bracelet. It's powered by a variation of the same great movement as the Monster so you can be assured of having an accurate time keeper. This one will be a fabulous addition to any collection.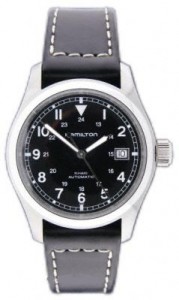 3) Hamilton Khaki Field Automatic:Hamilton Khaki is a fairly large product line, and some of the watches are nicer than others. It is a mixed offering of automatic wrist watches and quartz watches. The watch shown (the Hamilton Khaki Field Automatic H70455733) is a great pilot-style watch with a simple distinct face. Hamilton never seems to be a favorite among watch collectors, but I've always felt that they had some really distinctive and elegant designs. There is also a chronograph version of this watch that cost substantially more, but adds a bunch of features. Personally I prefer the clean look of this one and at around $250 it is a great addition to any collection.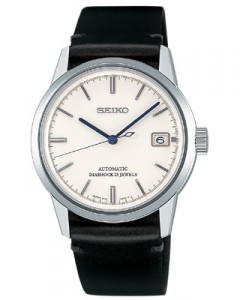 2) Seiko Spirit: This is a Japanese market watch so you will have to buy it from Ebay or from on of the Japanese retailers that will ship to the US like Seiyajapan.Available for $330 , the spirit is a study in understated elegance and quality. It has the looks and quality of the Grand Seiko line without the price tag. It features a real sapphire glass face, a display back with hardlex glass, and 100m water resistance. With the leather strap is a gentleman's watch, made to be worn to a business meeting or a night on the town. Get the stainless bracelet and this watch takes on a more sporty personality. The 6R15B 23 movement is hacking and hand winding- basically unheard of features in this price range. If you can own one watch get this one– It versatile, beautiful and functional.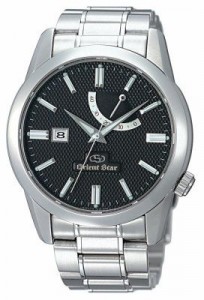 1) Orient Star: Orient Watch Company is the third largest watch company in Japan. It is not well known in the US, but that doesn't mean they don't make some fantastic watches. Orient Star is the high end product line of Orient Watch Company. I'm not recommending a specific model. You should check out all of them. Like Seiko–who partially owns them now–Orient manufactures it's own movements, and man are they good at it. The watch shown features a power reserve complication which lets you know how much power is left in the main spring. This is a feature you usually don's see in watches costing less than $3000, but this one is about $300. You'll need to do some internet shopping or head to ebay, because theses watches are made for the Japanese market and not as readily available in the US.
FUENTE: http://automaticwatch.org/?p=44